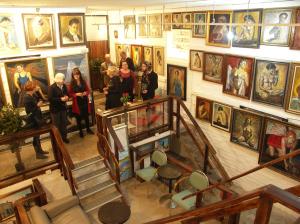 Galleria Merila, the largest art gallery in Kotka, Finland, has moved to the building of Asuntohotelli Hostel Aallon Maja. The building is located in Sunila district at the address Valliniemenkatu 2, 48900 Kotka. Sunila is the most important industrial and residental area in the World designed by Alvar Aalto, the most well known architect in Finland ever.

We have now taken all empty spaces of Aallon Maja in use of our art sale exhibitions. In the same building you can find Art Cafe Aino, Russian Art Center in Kotka, Galleria Merilš, atelier/studio of painter Raija Merilš and Asuntohotelli Hostel Aallon Maja. The owner of these companies and business areas - Mr. Ilkka Porkka - has his office there, as well. He is running Asuntohotelli Hotel Petkele in Hamina, Finland and ArcticPro OŁ in Tallinn, Estonia, too.

Galleria Merilš has a big collection of oil, acrylic, water color and pastel paintings and graphics from Finland, Russia, Estonia etc. All art works are for sale...